#ThankATrucker
5.5.2020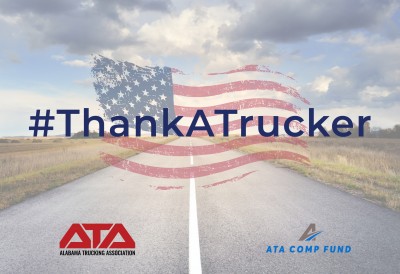 During the unprecedented times our country has faced, the trucking industry has stepped up and answered the call. Store shelves have been restocked daily, warehouses remain full of essential goods, and consumers continue to receive their packages because of the tireless efforts of truckers.

In an effort to show our appreciation for truckers around the country, the Alabama Trucking Association and the ATA Comp Fund have partnered to show our gratitude for the hardworking people that make up our industry. Members, be on the lookout in the coming days for more information in the mail.

Our goal is to recognize the efforts of not just our Members, but of each and every employee within our Industry. Be safe, be well and don't forget to #ThankATrucker.